For the past 9 years, Ovations Technologies have been committed to Building, Loving, Uniting, and Empowering Olievenhoutbosch through Blue-O Community and Trust Hope Faith (THF) Non-Profit Organisations (NPO's). As a commitment towards creating a better future for all South Africans and assisting where we can, we have made contributions to these NPO's by setting up a Computer Centre which has provided much needed ICT capacity in the community. The Computer Centre is a place where individuals within the Olievenhoutbosch community can learn computer skills, create CV's and search online for jobs.
Over the years, the children from the Blue O Community school were invited to join our Community Day celebrations. At this event, the children played games, had fun on jumping castles and also, judged who their favourite Ovations MasterChef team was.  This happened during the cook-off that provided meals to everyone of the Ovations community that joined with their families.  Along with spending time with the children, Ovations has given back to the community by also donating clothes, stationery, and Christmas gifts to them on various occasions.
This year was no different.
On 17 September 2020, we were once again privileged to visit them amidst the current impact of COVID-19. As part of our contribution, we donated laptops to 12 individuals who will be participating in a mentoring programme. These laptops were the last puzzle piece they needed to be able to take part in the initiative and Ovations wanted to be an enabler of driving this kind of skills development within our community.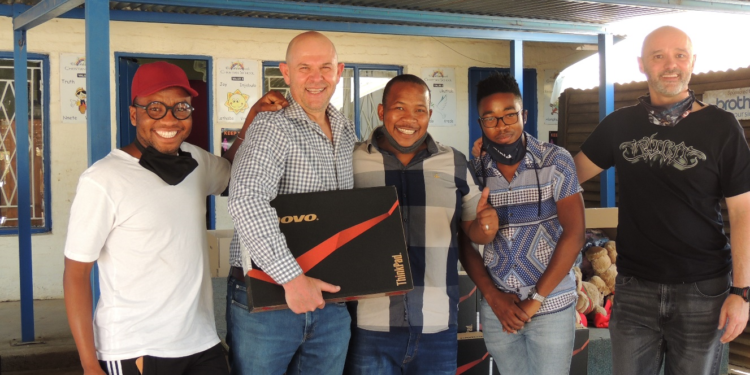 In addition to this, and in collaboration with Kiddies Academy, Lynnwood, we were also able to conclude our Women's Day project 2020; Jars of Hope, by donating 51 of these food jars to THF. These will be able to feed ± 200 people with a nourishing meal within the Olievenhoutbosch community, along with other donations such as much-needed clothes and toys for the children.
Journey to Ovations by John Cula
"My name is John Cula and today I want to share my journey to Ovations.
It all started with THF, which is a Non-Profit Organisation (NPO) that was running in the same area that I live in. I first heard about it when I was in high school through a friend's brother and every Saturday THF ran what is known as "Kids Games" which is basically where they would invite kids around the area and have a fun day with them by playing games, singing and dancing with them as a community upliftment initiative.
My friend would attend these games as his brother was a volunteer there, to where he then invited me, and from there on, I would spend most of my Saturdays entertaining the kids if I didn't have schoolwork to do. I met the founder of the organisation, Themba Maluleke, when I was in my final year of high school and he told me that I was welcome to join the group of young volunteers the following year if I wouldn't be going to college.
So, the following year, 2013, I decided to go and volunteer at THF. This is when I was fully introduced to what THF is, and what they do, and soon enough I was now part of the THF Youth Development family. The tasks I did was assisting kids with their school tasks and providing art classes to them, as I wanted to do animation as a career path, but because I couldn't go to college, I decided to use that skill there.
Time passed and during those years I volunteered, THF would be invited to a Community day yearly celebration which was hosted by Ovations. I would attend these events each year and that's where I met Leoni, the HR Manager at Ovations. Ovations then donated computers to THF and a new computer centre was opened at THF. I then started giving computer lessons to kids and on one occasion a former Ovations employee came for a visit to THF and Themba introduced her to me, explaining that I was involved in teaching children at the computer centre.
After some time, an opportunity at Ovations arose for a Junior Service Desk Administrator and I was contacted to be considered. I then sent my CV to Ovations and officially joined the Ovations family on the 1st October 2018 to this day and I am now allocated at well-known client within South Africa as a Junior System Support Engineer.
I have decided to share my story as a message to all young hardworking individuals. Dream big, nothing is stopping you from making it a reality"