Innovative Content Service Solutions
There has been a shift of focus on content from its use to how it is stored, needless to say, that storage is of paramount importance, there is no point of storing data that has no purpose. Each company is complex and has an array of different data that needs to be analysed, but to integrate those insights to develop a strategy, or strategies, that benefit each sector of your company is time-consuming and leaves room for error when completed manually. 
It is for this reason that we at Ovations offer Content Service (CS) Solutions principled in integration, bringing together architecture supportive of on-premises and hybrid cloud services, a multi-repository approach to manage content regardless of its source repository, and intelligent functions to analyse and streamline the delivery of your content for more insightful development of operational goals, retention of business knowledge, regulatory management, and process efficiencies.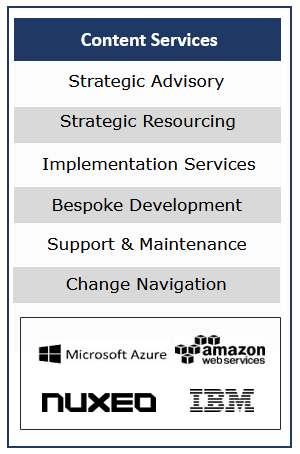 Digital workflows, just-in-time content delivery and faster
Automated and defensible content disposal​
eDiscovery
Optimal storage and archival media with resources reallocated to more innovative pursuit

Analytics of customer data for better decision making
eDiscovery and Sentiment analysis
Faster content retrieval

Automated content routing

Reduced Litigation risk

Reduced network demand and storage

Customer Insights